The Coco Bar, authentic and unique

Warm and festive ambience in Martinique

2 restaurants and 2 bars at Hotel Bakoua

Flavours, culinary delights in a cosy atmosphere by the sea

Le Chateaubriand, refined cuisine

Romance and peace of mind at the restaurant of Hotel Bakoua

Creative and inspired cuisine

Trendy restaurant Le Chateaubriand

La Sirène at 4 star hotel Bakoua

Sunday lunch, local specialities and sea view

Restaurants and bar for exclusive use

Seminars, private receptions and weddings at Trois‐Ilets
Restaurants and bars
Hotel Bakoua, Trois-Ilets
Bars, relaxation and lounge atmosphere in Martinique
The Coco Bar, an exceptional place
A hut on stilts, surrounded by turquoise water, facing the beach of Hotel Bakoua: the Coco Bar is one of these key places which invite you to change scenery and enjoy absolute relaxation in an idyllic setting…
Read more
You access this unusual space using the wooden pontoon over the crystal clear waters. Offer yourself a moment of evasion at the Coco Bar, with a panoramic view of the surrounding sceneries during gourmet breaks: sandwiches, paninis and salads will be served throughout the day, accompanied by homemade cocktails, rums and fresh beverages. Pleasure for the senses guaranteed!
From sunset, from Thursday evening to Sunday evening, the Cocobar turns into Mojito bar.
Open from Monday to Wednesday from 9 am to 5 pm. Thursday to Sunday open until 11 pm.
Discover our menu COCO BAR SNACKING 2019
Le Gommier, cosy bar, with a sea view
Take a seat at the Gommier, for moments of wellbeing, in an intimate setting: sheltered by the tropical garden, an atmosphere which is both convivial and elegant thanks to sophisticated wooden furniture, is prevailing and invites you to a perfect enjoyment of your aperitifs at the end of the day, during a romantic tête-à-tête, while sharing a glass with friends or during a business appointment.
Against the backdrop of a stunning view of the bay of Fort-de-France, discover the homemade cocktails and a selection of rums of Martinique, with moderation, but with pleasure!
Open daily from 4.00pm to midnight.
Discover our menu LE GOMMIER 2019
Trendy restaurants at Trois Ilets
Le Chateaubriand, gourmet restaurant
Enter the chic and cosy atmosphere of the restaurant Le Chateaubriand. Plush atmosphere, perfectly dressed tables, a breath-taking view of the sea and flower decor: the restaurant of Hotel Bakoua at Trois-Ilets boasts charm, a gourmet and savoury cuisine, around French classics, local products or produce with an international inspiration. Epicureans will be enthralled by the dishes of the chef and his brigade, to be tasted in a universe of calm and wellbeing.
All thurday, special Lobster diner (starter, main course (meat or lobster) and dessert . Single price 65€.
Only in high season (December-April)
Open daily from 7.00pm to 10.00pm.
Discover our menu LE CHATEAUBRIAND 2019
La Sirène, local cuisine and barbeque
At the restaurant La Sirène, the change in scenery is continued on the plate thanks to traditional flavours: the 4-star Hotel Bakoua proposes a local cuisine to discover the colourful specialities of the region. You will appreciate grilled fish and meat, marinated fish, colombo, acras… Enjoy a successful culinary voyage during lunch at La Sirene. Open daily from noon to 3.00pm.
On Thursday evenings, come and enjoy the evening lobster, menu at 55 € per person, starter, main course, dessert included from 19h00.
Discover our menu LA SIRENE 2019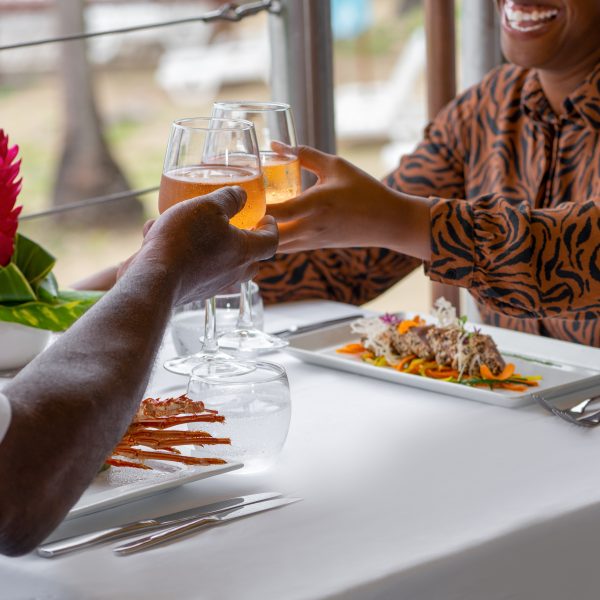 Festive, business and private events at the 4-star Hotel Bakoua
Business meals, receptions and weddings in Martinique
Every occasion has its special ambience and place: the Coco Bar, the Gommier, the Sirène, the Chateaubriand can be used exclusively for your business appointments and meals but also for your banquets, private receptions and weddings…
Follow our page on Facebook and our Instagram account to discover the programme for these moments rich in discoveries, exchanges and sharing.
Contact the property to inform us about your needs, projects and wishes, by telephone on +596 5 96 66 02 02.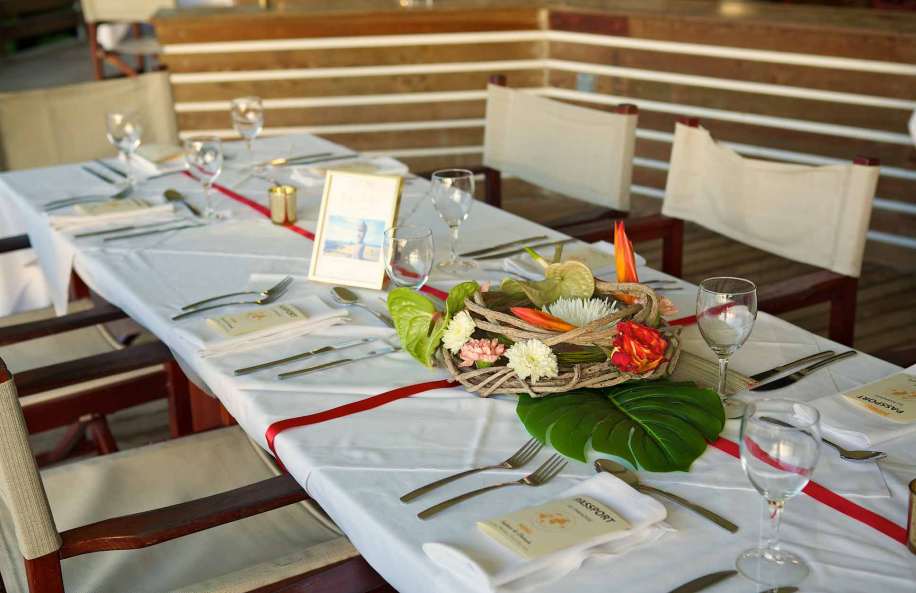 Events all year at Hotel Bakoua
Throughout the year the restaurants and bars of Hotel Bakoua propose numerous theme-based evenings: a menu to discover, a barbecue day with deckchairs at the beach, a musical evening, an exhibition of paintings… All the occasions are good, so come and benefit from the welcoming ambience of Hotel Bakoua at Pointe-du-Bout, at the heart of an exceptional setting.
Don't hesitate to contact the property by telephone on:
+596 5 96 66 02 02 or on our Facebook page to discover the programme of these moments rich in discoveries, exchanges and sharing.