All our news
Reserve your excursions to discover Martinique!
Organise you stay now by reserving your excursion at the same time as your room at Hotel Bakoua 4 stars.

In a partnership with the local travel agent Cœur des Iles, Hotel Bakoua proposes to enliven your trip by excursions starting from the property: an ideal solution to organise your vacation simply by giving in to your desires!
Three excursions are proposed: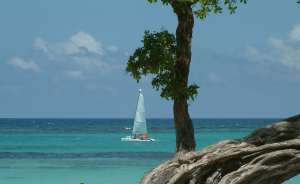 Catamaran ride
Every day, this cruise, starting from Pointe-du-Bout, offers a unique panoramic view of Martinique from the sea: in a pleasant and relaxed atmosphere, during a comfortable navigation on the very spacious deck of a 17.50m catamaran, full of charm and character, you will discover pretty bays lined with coconut trees and crystal clear turquoise waters. A more than exciting programme: sailing, farniente, bathing, snorkelling, gourmet meal served on board. During the whole day you will be served as many fruit juices and planter cocktails as you want.
Regular rate: EUR 80/adults and EUR 47/child.
North Atlantic
This guided tour, organised on Wednesdays and Saturdays, will let you discover the north of Martinique and proposes a full programme:
– Crossing of the capital city Fort-de-France.
– Photo stop at the Balata church, a miniature replica of the Montmartre basilica in Paris.
– Visit to the botanical garden of Balata with thousands of varieties of plants and shrubs from the tropical forest.
– Continuation of the trip on the green scenery route de la Trace towards the city of SaintPierre. Visit the remains of the city destroyed by the eruption of the Mont Pelée volcano in 1902.
– Creole lunch in a restaurant located on the slopes of the volcano.
– Departure for the Atlantic coast through Morne Rouge and Ajoupa-Bouillon, very fertile regions. Visit to a North Atlantic distillery with tasting.
Departure in the morning from Fort-de-France (crossing between Trois-Ilets and Fort-de-France, to be paid directly on-site – EUR 4.30).
Regular rate: EUR 75/adults and EUR 37.5/child.
South and residences of yesteryear
The south of Martinique will no longer hold any secrets for you thanks to this excursion proposed on Thursdays. On the programme :
– Visit to the Pagerie estate located at Trois-Ilets, the birthplace of Empress Joséphine in 1763.
– Crossing the countryside along the suburb of « Petit Bourg » and the village of « Saint Esprit». Visit to the Habitation Clément, a residence and distillery laden with history. Tasting of rum and fruity liquors with possibility to buy on site.
– Departure for Vauclin by the Atlantic coast to the village of Sainte Anne
– Lunch at the site of Sainte Anne. • Bathing stop ar the magnificent Salines beach
– Relaxation, rest, walk on the sand
Regular rate: EUR 75/adults and EUR 37.5/child.